At Freight Motion, we have clients who discuss various transportation issues they had in the past. We would like to share one here to raise awareness of underlying issues, market trends, and possible solutions.
Company X is a large business that has tight deadlines and production schedules. They ordered a part, and without it, their entire operation shuts down.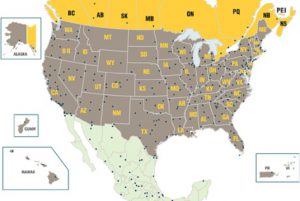 To arrange transport of the product, they called Freight Motion. We scheduled the shipment with an LTL carrier that offered a time critical guaranteed delivery with a 5-day transit.
Some background, LTL carriers move their freight through various "terminals" strategically located around the country. When a shipment is going from LA to NY for example, it does not stay on one truck for the entire shipment (surprise!). It will travel on multiple trucks and be loaded/unloaded through multiple terminals. The picture on the right shows the various UPS terminals around the country.
Back to our story. Three days into transit, we tracked the freight and it showed a delay at a terminal. We knew that this most likely would not deliver on time.
Immediately, we called the client and told them what was going on. We worked with them to weigh the cost of rescue versus the loss of the product. It was determined that rescuing the freight was far more important than not having the product.
We then called the LTL carrier, had them locate this freight, pull it from the truck and had it staged for rescue.
We owned the responsibility of having the shipment delivered on time, as scheduled. Even when relying on an LTL carrier that guaranteed delivery on time, but in the end, they could not, we deliver. Because we see ourselves as an outsourced shipping department, it is our responsibility, not your headache.
How would you have handled this situation?