At Freight Motion, we have clients who discuss various transportation issues they had in the past. We would like to share one here to raise awareness of underlying issues, market trends, and possible solutions.
Today's post focuses on something much simpler then market trends, issues, solutions, etc. It is going to focus on what we call "doing the right thing."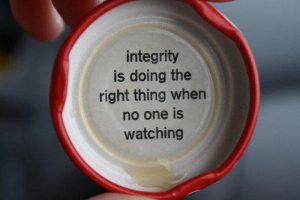 Every day we make choices.  Choices define us as people and as businesses.  We wanted to share one instance where we made the choice to do what we thought was the right thing.
Several months ago, we quoted a client for a shipment that weighed 1,000 lbs.  Say we quoted a rate of $499.  Several weeks later, the client called to schedule the shipment.  On the phone, they said they did not remember what the rate was and could not find the email. 
In speaking with the shipper, we learned that the freight was actually 800 lbs., not 1,000 as we had quoted previously.  This lowered the rate to about $449. 
We had a choice to make, pocket the $50 or reduce.  They would never know.
We felt the right thing to do was to give that money back to the client.  What would you have done?